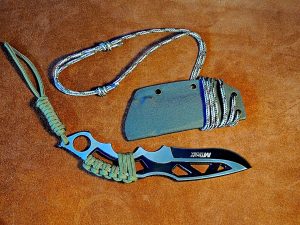 Adjustable Neck Knife Lanyard How to Tie Tutorial This video will show you how I use the fisherman's knot, to ensure that my MTech neck knife can be fully adjusted. This is very useful because there are times you don't want the neck knife dangling in the way when you are bent over.
🎀 Paracord 3mm: https://rover.ebay.com/rover/1/710-53…
If you really like this video, please share it via the Share button above. Also, please subscribe to get notification of future knotting videos.
🛠 Constrictor Knot: https://www.youtube.com/watch?v=8LlmO…
🛠 Finishing Solution: https://youtu.be/G9iI7Rm33io
SUBSCRIBE: https://www.youtube.com/channel/UCxfS…
RSS Feed: https://www.youtube.com/feeds/videos….
Most Recent Upload: https://goo.gl/k6GgTZ
Most Popular Upload: https://goo.gl/5yvXdj
Channel Page Link: https://goo.gl/2AEknQ