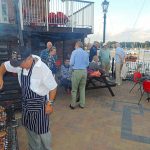 Last night was a superb evening for a BBQ, there was warm glow from the setting sun over waters at Fareham, and the smell of the BBQ filled the air. Members and friends gathered for the annual BBQ.
There was no knotting as such, the theme of the evening was eating (which I excelled at) and also messing about with rope tricks and games.  Bob managed to launch a spinning top through the air and almost embed itself in the side of a boat!
Jeff Wyatt also brought along to the meeting two wonderful examples of braided rope work, framing a clock and a plate. I am not sure that the photos here actually do the rope work justice.
Here are two fine examples of braiding:
All in all the evening was wonderful, excellent food, pleasant company and a laugh!