Bell-Rope For An Old Four Masted Barque Making A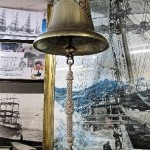 Making a Bell Rope
Making a Bell Rope Comes in a number of different styles, it is really up to your imagination on how simple or fancy you want your Bell Rope to look. In this post, you will see the knots that were used in creating this bell rope made for the An Old Four Masted Barque by Ken Yalden.
In this particular case the rope is made from 4mm 3 strand polished hemp. So, starting at the top and working down, the following knots have been used in creating this beautiful bell rope.
Cockscombing the Eye of the Bell Rope
In this case Cockscombing using three strands of line has been created to make the eye of the bell rope. Cockscombing although very decorative, it also serves a useful purpose, in that it will protect the main body of the eye from wear. You may be interested in this post on How to create Cockscombing, there is also a video tutorial on how to do Cockscombing.
6 Strand Matthew Walker Knot
Next, the six strands from the Cockscombing are brought together and made into a Mathew Walker Knot. The great thing about the Mathew Walker knot is that it is not only a beautiful stand alone knot, but is also a great knot to use when transitioning form one knot to another. To start with the Matthew Walker can be a bit fiddly to learn, but once mastered, you will never forget this one. How to Tie the Matthew Walker Knot.
Diamond Knot on a Bell Rope
There are a few different decorative knots that come under the title of Diamond Knot. I think that in this particular case, Ken is referring to the this way of Tying the Diamond Knot. This is another good knot to use when transitioning form one knot to another.
Crown Sennit for a Bell Rope
Next the main body of the bell rope has been created by using a Crown Sennit. When it comes to creating a Crown Sennit, there are two versions that you might want to Consider; the Continuos Crown Sennit or alternatively the Alternating Crown Sennit. Basically the first version gives your bell rope a spiral look and the second produces nice straight lines running the length of the bell rope. Both versions can be found on this post Creating a Crown Sennit.
Long or Extended Diamond Knot
In the middle of the bell rope, Ken has added a Long or Extended Diamond Knot. Alternatively if you are familiar with tying a longer Turks Head, you could consider using that with extra passes. There are a number of Turks Heads on this site. Alternatively you could take a look at the Turks Head Playlist on @KnottiingKnots
Finishing the Bell Rope
At the end of this bell rope, Ken has finished it in exactly the same way as it was started. However, in the finishing of this, a brass ring has been included. I find that a good type of ring to use is a Bull Nose Ring, this link will take you to eBay, where there are a few different types to choose from. I think a bull would prefer it on a bell rope, rather than through his nose!!
Bell Rope Married to the Bell
In the final image below, you will see just how smart the bell looks with it's bespoke bell rope.
Click on Images to view full size.
Cocks Comb around the soft eye
Matthew Walker 6×6
Diamond knot 6×2
Crown Sennit x6
Long Diamond knot x6