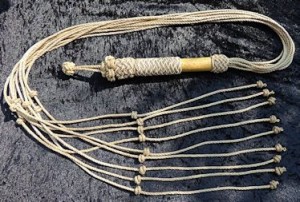 How to Make a Cat of Nine Tails
I have already made two cat o nine tails in the past, but I thought this time I would record my progress of making one.
In this particular case I used polished hemp, white cotton and also some bamboo.
I started off by measuring nine pieces of polished hemp cord of the same length. I then used 7 of the pieces and tied a star knot that was wrapped around the remaining two pieces of hemp. The idea was that the remaining two pieces would then be used to hang the cat o nine tails when not in use.
Once the star knot was completed I would then pass the 9 lengths of cord through
the centre of the bamboo that would act as the handle for my cat. The bamboo handle was then covered in a Turks Head 4 bites by 19 leads, using thinner polished hemp and the white cotton cord to make if more decorative. I also wanted to leave some of the bamboo showing, as it is a rather nice wood visually.
I gave the handle a little more decoration and included a globe type knot at the end to lock the nine tails in place. To be able to hang the Cat o Nine Tails is added a Lanyard knot to then end. Within each of the nine tails I tied three blood knots in each length
During the process of making the cat I also made a finishing solution of 50% PVA
(wood glue) to 50% water, which I coated onto the knots of the handle. I find this protects the knot work and I can then wash it in future if it gets grubby.
……… and then here is the finished Cat O Nine Tails.
….